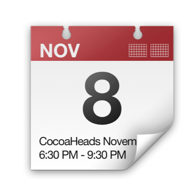 For those of you who weren't at CocoaHeads in October, for November we are meeting on the second Thursday of the month (like we did in September).
We will be at Roamz again who have been awesome hosts all year (and last year too).

We have two great speakers again, Lisi Schappi, Designer Extraordinaire, in her much anticipated talk will be talking about design skills for developers. Alexander O'Han, from Noah Consulting, will be talking about ways to fund your project or startup with Australian government grants.
6:30 pm, at Roamz, 23 Foster Street, Surry Hills NSW: http://g.co/maps/6p6ds
Look forward to seeing you there!
Our Pizza and Beer sponsor for this month is NOAH Consulting, which is appropriate for what should be obvious reasons!

NOAH specialises in helping companies and app developers access Government financial incentives for the innovative work they undertake and I am now looking forward to eating their pizza as well as hearing from Alexander!